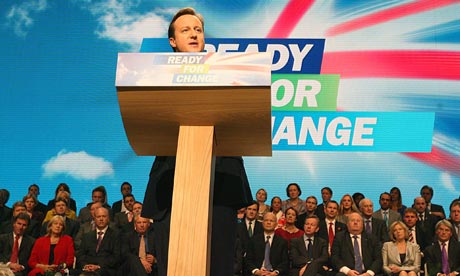 The general election is unlikely to be much more than six months away and for the last two years the Conservative Party have been consistently riding high in the opinion polls. Despite recent indications that the Tory lead over the Labour Party might be narrowing, it appears highly likely that David Cameron, with his tattooed designer wife, will be crossing the Number 10 threshold sometime in the first half of next year charged by the Queen to set up a new government.
But exactly who are the candidates likely to fill up the cabinet posts in Cameron's first administration? Some names are familiar to many; figures like George Osborne, William Hague and Kenneth Clarke are widely recognised but the rest are even obscure to veteran politicos.
Compare their bright names with those of the Labour Party circa 1997. Then Tony Blair had many familiar figures in his team: Gordon Brown; Robin Cook; Jack Straw; Chris Smith; Peter Mandelson; Margaret Beckett; John Prescott; David Blunkett; Mo Mowlam. I am not suggesting for a second that all of these are and were impressive political colossuses, or indeed that they all had successful political careers. But they were all more familiar public figures than David Cameron's current shadow cabinet.
Curiously, with the former cabinet ministers of William Hague and Kenneth Clarke, the Tories actually have more ministerial experience than Labour did in 1997. Of Tony Blair's first government only Margaret Beckett had been a minister under a previous administration, John Prescott had served in Europe and Jack Straw had been a fixer, adviser and bag-carrier under Wilson. The rest of that Labour cabinet had no ministerial experience at all and most had entered parliament during Margaret Thatcher's rule.
So it seems an opportune time to have a brief introduction to the characters who could soon be running the country and over the next few weeks I'll post a few pieces outlining who exactly they all are, from the leader David Cameron to the frankly unknown Cheryl Gillan, the shadow Secretary of State for Wales (I bet most of you didn't know that!).
So, before I embark on this bit of fun, as an introduction below is the entire Shadow Cabinet. How many can you identify?
Members of the Shadow Cabinet
Leader of the Conservative Party - Rt Hon David Cameron MP
Leader of the Opposition in the House of Lords - Rt Hon Lord Strathclyde
Shadow Leader of the House of Commons - Rt Hon Sir George Young MP
Shadow Chancellor of the Exchequer - George Osborne MP
Shadow Foreign Secretary - Rt Hon William Hague MP
Shadow Home Secretary - Chris Grayling MP
Shadow Secretary of State for Business - Rt Hon Kenneth Clarke MP
Shadow Minister for the Cabinet Office - Rt Hon Francis Maude MP
Shadow for Children, Schools and Families - Michael Gove MP
Shadow for Communities and Local Government - Caroline Spelman MP
Shadow Secretary of State Culture, Media and Sport - Jeremy Hunt MP
Shadow Secretary of State for Defence - Dr Liam Fox MP
Shadow Secretary for Environment, Food and Rural Affairs - Nick Herbert MP
Shadow Secretary of State for Health - Andrew Lansley MP
Shadow for Universities and Skills - David Willetts MP
Shadow for Energy and Climate Change - Greg Clark MP
Shadow for International Development - Andrew Mitchell MP
Shadow Secretary of State for Justice - Dominic Grieve MP
Shadow Secretary of State for Northern Ireland - Owen Paterson MP
Shadow Secretary of State for Scotland - David Mundell MP
Shadow Secretary of State for Transport - Theresa Villiers MP
Shadow Chief Secretary to the Treasury - Philip Hammond MP
Shadow Secretary of State for Wales - Cheryl Gillan MP
Shadow for Work and Pensions and Shadow Minister for Women - Rt Hon Theresa May MP
Shadow Minister for Europe - Mark Francois MP
Shadow Housing Minister - Grant Shapps MP
Chairman of the Conservative Party - Eric Pickles MP
Chairman of the Policy Review and Chairman of the Conservative Research Department - Rt Hon Oliver Letwin MP
Opposition Chief Whip - Rt Hon Patrick McLoughlin MP
Shadow Minister for Community Cohesion and Social Action - Baroness Warsi
Shadow Security Minister - Baroness Neville-Jones