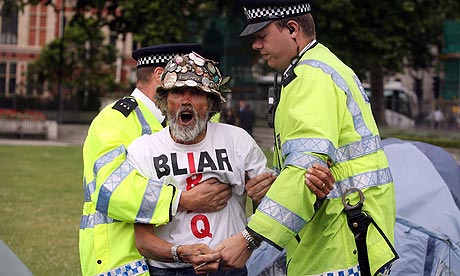 It's no surprise to hear Brian Haw, the veteran peace campaigner who has doggedly clung to his demonstrator's pitch in Parliament Square for the last ten years, has died in Germany after losing his fight against lung cancer. A decade of protesting on the streets, constantly surrounded by the exhaust fumes of millions of vehicles would do ravages to the body of the strongest person. And Brian's health could not have been helped by the rolled-up cigarettes clamped tightly between his fingers which were his constant companions.
Time was when I found myself in Parliament Square on an almost weekly basis chatting with Brian, and his erstwhile companions, Maria Gallestegui and Barbara Tucker. Either that or he was in Bow Street or Westminster Magistrates, barracking which ever unfortunate JP might find themselves sitting.
Brian wasn't an easy man to interview. His determination and commitment to his cause was unshakeable every day of his vigil since it began back in June 2001. Inspired as much by his strong religious conviction as his abhorrence at the 'slaughter of innocents' which were the inevitable consequences of the wars in Afghanistan and Iraq, Brian's spittle-flecked conversation was punctuated by heartfelt, passionate swearing. In fact, I don't think I've ever met a Christian who swore so much. His targets were the politicians who ordered the wars, safely ensconced in deeply more comfortable circumstances than the spartan conditions he enjoyed.
Looking back at a few old cuttings from our meetings, apart from his unwavering devotion, the common theme is how much time and effort our politicians spent trying to shift him.
Westminster Council were the first, trying to prosecute him for obstructing the pavement in 2002, only for their case to fail spectacularly as the court ruled the pavement wasn't blocked.
During Tony Blair's administration a section of the Serious Organised Crime Act was introduced specifically with the aim of shifting Brian from his site. The Act made it an offence to start a protest within half a mile of Parliament without prior police authorisation. But despite the hours spent by politicians discussing the measures, and all the hard work by beavering civil servants checking and rechecking for loopholes, Brian was able to stay on unmolested. The High Court ruled that as Brian's protest began prior to the law he was exempted. Home Office lawyers blamed a 'drafting error'. While the law was amended, Brian stayed in put.
In September, 2005, Westminster Council ruled that Brian should not be able to use a loudhailer, deciding only the emergency services should have such a privilege. The poor dears in Parliament were, it was argued, disturbed by the constant noise from the angry Mr Haw. Councillor Audrey Lewis, who was then Westminster's licensing chief, said at the time: 'Were we to have granted his application there would undoubtedly be applications for other protesters to do the same.' Brian continued to use his loudhailer and crowds of other shouters did not join him.
Yes Brian was awkward. Yes, he could be unreasonable and his display might not have been pretty, though it contained enough to inspire Turner Prize-winning artist Mark Wallinger to recreate it in its entirety at Tate Britain. But his long vigil was a permanent and explicit reminder to the politicians who passed him every day the inescapable consequences of their actions. And it was a visible, sometimes shocking, display of democracy in action.
In a strange way, Brian reminds me of Scorsese's vision of Jake La Motta in Raging Bull. Pummelled half to death by Sugar Ray Robinson, every inch of his face coated with blood, La Motta is still standing up, swaying against the ropes. He jeers, half smiling through the blood, and taunts Robinson saying: 'Hey, Ray, I never went down, man! You never got me down, Ray! You hear me, you never got me down'.
And Brian never went down. Westminster Council, Ken Livingstone, Boris Johnson, Tony Blair's government and the coalition government, all threw their best punches. And Brian never went down.